The Goddess of Genesis, Vanessa, is fast asleep, in the village of Alta Milan, far from the Realms of Elements, or so goes the legend.
The Elements have been touched by Darkness, and there are monsters crowding around, ready to attack the Realms. A trio of travellers from Alta Milan have been whisked to Sky Island, home to the Elves and Dragon Rider.
Take this crazy trip with them and get to know new sexy heroes, and help them to rescue the Realms, which are seriously endangered! Get your hot heroes together to face up to the bosses in battle!
Pick whether you want to attack or to shield when you go up against other players! You can choose from elves, dwarves, mermaids, hellhounds, robots, and many others to make up your own perfect team! More than 100 original seductive characters with hentai mode! All the ultra-sexy characters can be upgraded, and they all have their own specific skills to bring to the battle!
And also they have uncensored Hentai Visual Novels with – unveil the most taboo fantasies of your heroines by unblocking all their secret bonuses. Craving Quest is an uncensored hentai game.
Introduction
Zoe, Jacques, and Achilles, the three childhood friends begin their adventure in Skyland, where unforeseeable encounters and obstacles await them. An adventure full of fearful enemies, powerful allies, and awakening sexual desires for the trio.
The story contains 7 chapters, covering all the lands of the different elements in Skyland. Unlike traditional RPG games, where it is relatively easy to achieve your mission in story mode, the Craving Quest story quest will require a lot of effort from players to build their teams with various elements and roles. The storyline has a great ending and all the story chapters contain great rewards for completing them.
As the story progresses, different H-scenes become available for players to enjoy, making players want to complete the story mode.
Gameplay
The battle system is very well designed. Different stages contain different backgrounds and different types of enemies.
Each character is able to use their active skills, which are well-designed, and each of them has the power of special effects.
Characters' main skills are animated and tie in with their elements.
Also, players can challenge other players in the colosseum in the endgame of the competition.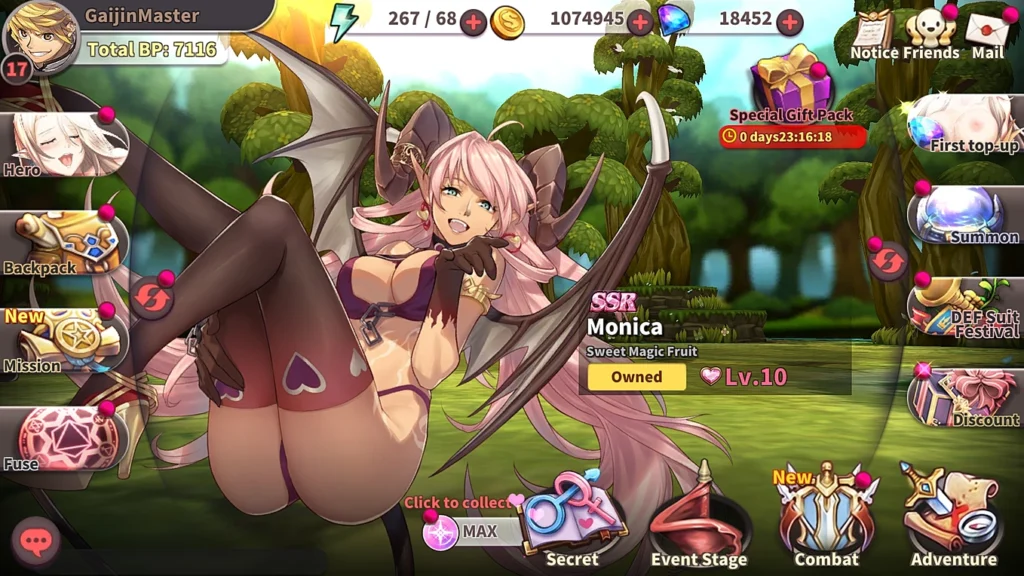 Music and sound effect
The sound tracks are amazing, battle music is very intense, and the background music is very peaceful.
Great skill sound effects (when activated) andcharacter dialogue voices.
Great H-scene sound effects and background music.
Hentai scenes
Craving Quest has one of the best plots and CGs for the hentai game. There are even animated H-scenes designed for their storyline.
The girls in the game are very enthusiastic about sex and romance. There are no rape scenes and the story texts are very arousing.
There are different sex scenes for each of the characters.
The different scenes build each character's personality very well, as they have various sex partners and explore different parts of their sexuality.
Estimated playtime
Estimated playtime to reach endgame is around 200 hours of gameplay, over a periodof 3 months.
With the introduction of new characters and endless improvements available to team building, the endgame can be played forever.
Numbers and figures
27 LSSR girls with great hentai scenes
Over 100 playable characters
1 male hentai character, targeting female players
43 different hentai scenes in total
7 story chapters
5 different gameplay modes